20 October – 6 December 2020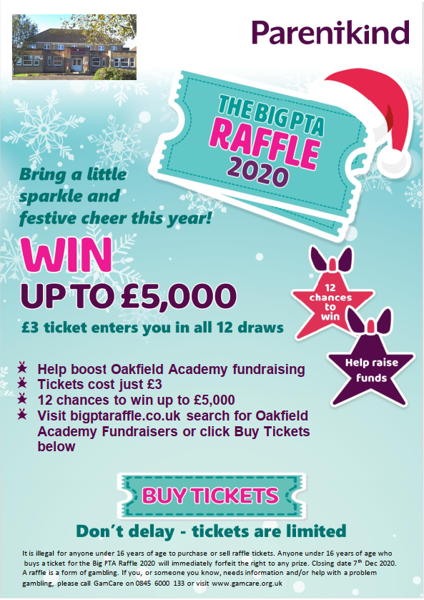 Oakfield Academy Fundraisers -The Big PTA Raffle
We're excited to join The Big PTA Raffle 2020, this has been a really tough year for everyone and this is an opportunity to have some fun and raise money for our academy. For every ticket bought you will have 12 chances to win up to £5,000!* At the same time Oakfield Academy Fundraisers will raise 50% from every ticket sold whilst the remainder goes into the prize fund.
We hope to raise funds that can support and enrich the education of our children - we are currently fundraising for new outdoor seating and rainy day activities and entertainment for all year groups.
Oakfield Academy fundraisers - like so many others - has taken a big hit this year. However, we'd like to end this term as winners, and we need your help! We are taking part in The Big PTA Raffle 2020, a nationwide PTA extravaganza, taking place between 20th October and 6th December 2020. You could be in with the chance of winning up to £5,000 in each of 12 draws taking place throughout December at www.bigptaraffle.co.uk. Each £3 ticket will generate a number that will be entered into all 12 draws. We receive funds for every ticket you purchase. We are excited to be a part of The Big PTA Raffle 2020 and look forward to seeing if you are a winner! Thank you for your ongoing support!
Your support is greatly appreciated and we wish you good luck!