18 November – 11 December 2020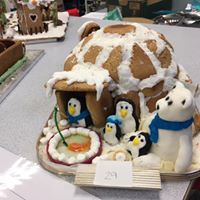 Gingerbread Competition

Sadly for the first time in 20 years we are unable to hold our annual Gingerbread Competition due to the current safety guidance. We would however still like our pupils to make a Gingerbread construction, they can email photographs of their creations to the DT Email and Ms Peat and Ms Nightingale will judge them. Email your entries to:-DT@oakfieldacademy.org.
Entries due by 11.12.2020
THE DOUGH

400 g golden syrup 200g sugar 100g butter 4 eggs 4 teaspoons ground cinnamon 1 teaspoon ground cardamom 1 teaspoon ground white pepper Half teaspoon ground ginger Half teaspoon ground cloves 2 teaspoons baking powder 1kg plain flour

THE METHOD

Melt butter in a saucepan, take off the heat and add the sugar and syrup, When cool add the eggs. Mix the spices and the baking powder into the flour. Mix the flour into the liquid. The dough will be stiff but not sticky. If the dough is sticky add more flour. If not using straight away (roll out on a floured surface and, using your templates, cut out) place in a bag and seal. It will keep in the fridge for up to 3 days. The dough will also freeze for 3 months. When rolling out the dough should be 3-4mm thick. Transfer to a baking sheet lined with parchment paper and bake 200 degrees C, Gas Mark 6 for 10-15 minutes. Only remove from the sheet when the biscuit is cooled.